Mission
Scale the work of God's servants from all nations and denominations by keeping their revelations between the lines of the Bible and making them accessible to all Bible readers worldwide.
Vision
Create the world's biggest interactive digital network of Bible commentaries by combining all Bible-based content in the world under 31,102 verses of the Bible to maximize the understanding of God's Word in the universal church of Jesus Christ.
Roadmap
December 2022
After reading Gerald's book, "HisPlan MyPlan", Perch decided to close his previous startup and start BibleLines. Not just as a next startup, but as a mission of life.
2023
Perch and Gagik founded the company in Delaware, US, and launched the first mobile app with YouTube integration and simple AI verse detection.
2023-2025
BibleLines is available on mobile, web, and desktop with AI-powered real-time verse search and detection in all content formats (video, audio, eBook, etc.).
2025-2027
BibleLines enables all Authors to transfer and upload their Bible-based content to our servers to become independent from YouTube and other 3rd party media hosting providers.
2027-2029
With Billion+ users BibleLines is the #1 platform for Bible teachers to disciple their congregations, for Christian authors to publish their books, and for churches to broadcast their Sunday sermons.
2030
BibleLines is more than a platform; with a tablet running a special Bible OS, it becomes an entire independent ecosystem devoted exclusively to the Holy Bible.
Advisors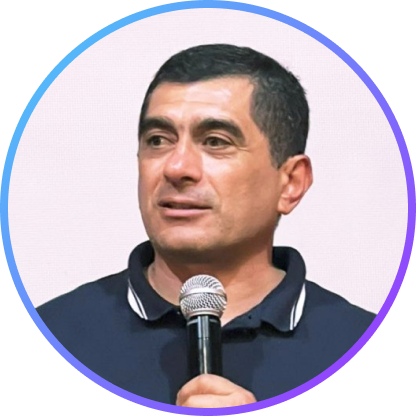 Arman Manukyan
Pastor at a protestant church; author; Bible teacher at Global university; partner at Jesus.net.
Gerald Duran
Serial faith-driven entrepreneur; author; managing partner at CanaGlobal.org; venture partner.